Your guide to choosing a stone counter top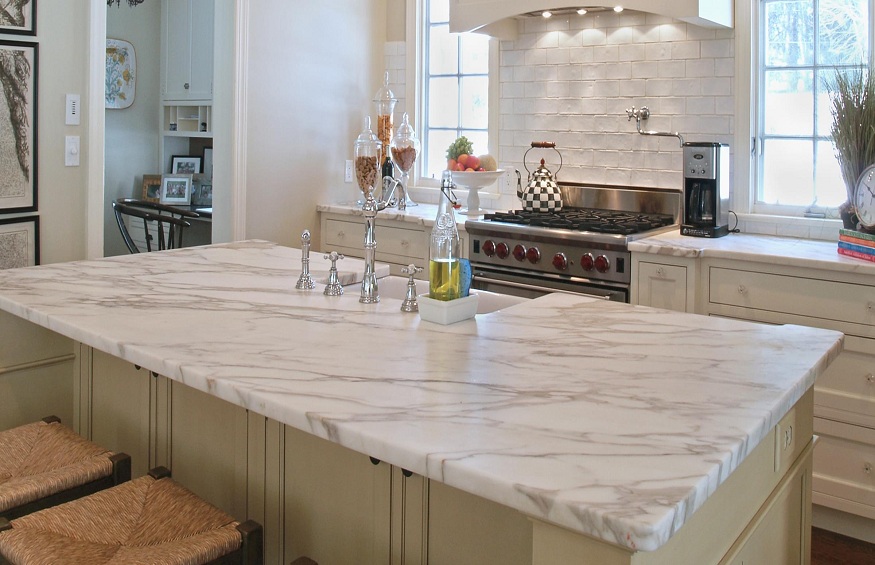 Worktops are one of the key elements of any kitchen space. Not only does this impact the look of your kitchen, but it will also impact how you use it. Therefore, getting this good counter top material is a must.
To help you find the right stone counter top, we've created this quick guide. We have chosen the three most popular stones; granite, quartz and marble and we've broken it down to show that each has its own pros and cons.
It's these benefits you'll want to look into, to make sure you're choosing the counter top that lets you live in your home in a way that works for you and your family.
Granite worktops
 It's a really durable counter top, but it does need a bit of maintenance with a professional sealer every year or two to make sure it's stain resistant. Let's take a look at its benefits.
Marble worktops
Marble counter tops are synonymous with luxury and expense. They are simply stunning. Formed from limestone and quarried around the world, this natural stone is simply amazing.
It is famous for its beautiful veins running through it, never the same. It can be economical, depending on where you buy it, but it should be noted that on a scale it is more expensive than granite and quartz. Let's take a look at its benefits.
It is incredibly heat resistant, making it ideal for bakers. It is available in a host of different colors and textures, with each tile being totally unique. Its price can vary, which means that you will probably find another type of marble in your budget at some point.
Quartz counter tops
Quartz, although it contains natural stone, is a rather artificial creation combining natural stone with a mixture of resin. The result is a sturdy material that not only looks good, but performs great too. It has become extremely popular in homes for good reason. Let's take a look at the advantages with the quartz kitchen worktop .
What's best for you?
Ultimately, all three of these options are fantastic, but you have to ask yourself, what are you looking for the most? Do you want maintenance free? Then quartz may be your best option and granite is definitely not for you.
Are you on a budget? Next, we suggest quartz over marble. Are you looking for a stone that is guaranteed to help increase the value of the property you are in? Then you can't go wrong with granite or marble. Or are you just looking for something that screams luxury and opulence? Then marble is your best bet.